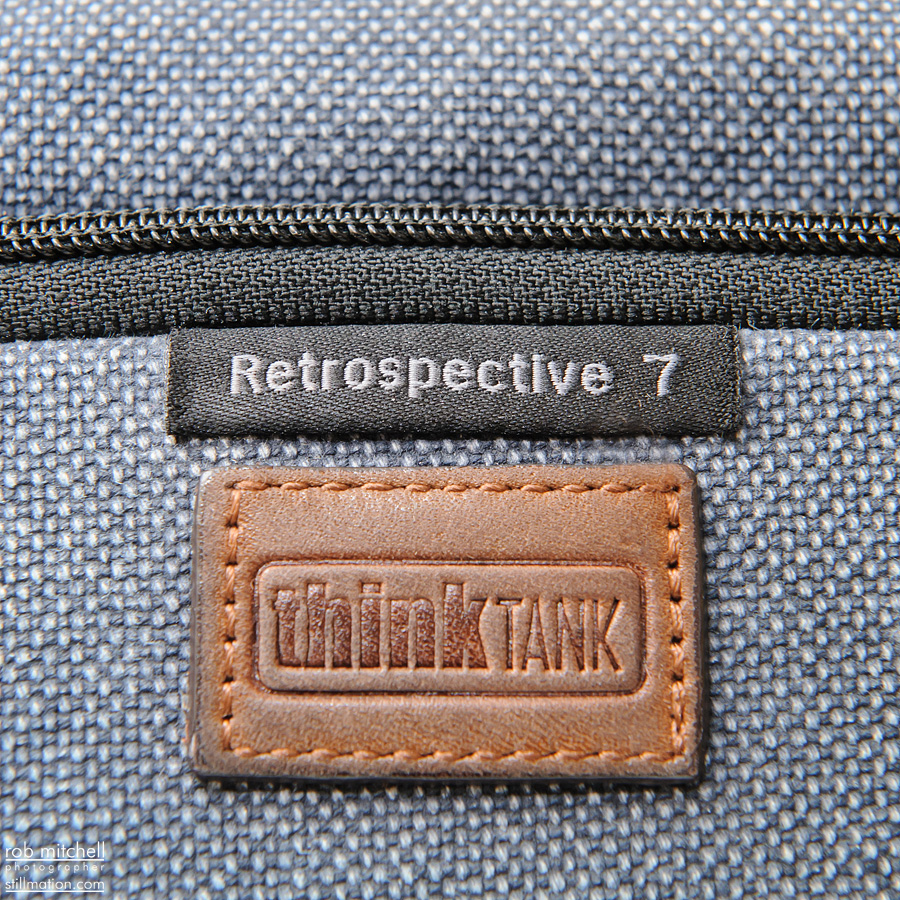 Like many photographers, I can never have enough bags. I'm scared to even think how many camera bags I've tried and used over the last few years. Always on the lookout for the perfect bag and thinking more about travelling light on some assignments, I was happy when the nice people over at Thinktank sent me a bag to test.
The type of bag I was looking for was easy. I wanted something that could carry a small system camera in, a selection of lenses, batteries, iPad and other bits and bobs. The usual 'day bag' ideals. It also needed to be big enough to carry a DSLR, a few lenses, flash, iPad, batteries, memory cards, etc.
The bag I was sent was the Retrospective 7. One of a series of bags in the Retrospective range. Constructed from and slightly weathered look textile, the Blue Slate coloured bag certainly doesn't glare out that it's a camera bag, never a bad thing when moving around a busy city.
The construction is good and feels like it'll last a good few years of use and abuse. I've used it for many assignments now and really getting to enjoy travelling light.
Nice features like dedicated tablet pocket, internal accessory and document pockets as well as a Velcro closure system that can be muted to avoid that wretched ripping noise, ideal for not attracting attention when working in quite environments. Of course, as with just about any camera bags,  the internal dividers can be repositioned to suit personal gear storage requirements. A nice little touch here, the dividers have a shoulder flap that can be folded down so a body fitted with a lens can rest on top of them.
A removable rain cover is also included. I'd guess the textile is relatively shower-proof but obviously not going to withstand a heavy downpour.
Ok, so the important bit. What can I get in the bag?
Set 1: Fujifilm X-Pro1 with 18, 35, 60mm lenses,  EF-X20 Flash, iPad, cards, batteries and lunch.
Set 2: Nikon D800E, 70-200, 85, 35mm, SB900, iPad, cards, batteries and a pack of mints.
Both sets are more than adequate for a lot of reportage work that I do. For the Nikon setup, I could quite easily replace the 2 primes with  24-70 and 17-35. The Fujifilm setup has a ton of space over. There would be no problem getting a 2nd body in there and another lens.
During testing and use of the Retrospective 7, one thing did concern me a little. When wearing the bag fully loaded with the Nikon gear, it naturally curves slightly to fit your body. As the iPad is tucked into a rear pocket, I was worried that the weight and curvature might cause some issues for the iPad. To help prevent too much curvature I made an insert for the tablet pocket. This was simply cut from some 3mm thick hard plastic and slides in the pocket along with the tablet or into the internal document pocket. It gives some peace of mind and does seem to help the bag keep shape.
All in all, if you're looking for something less 'camera bag' looking and carry a similar setup to me, I'd certainly recommend the Thinktank Retrospective 7.
The complete Thinktank range can be seen here. You can also keep up to date with them on Twitter