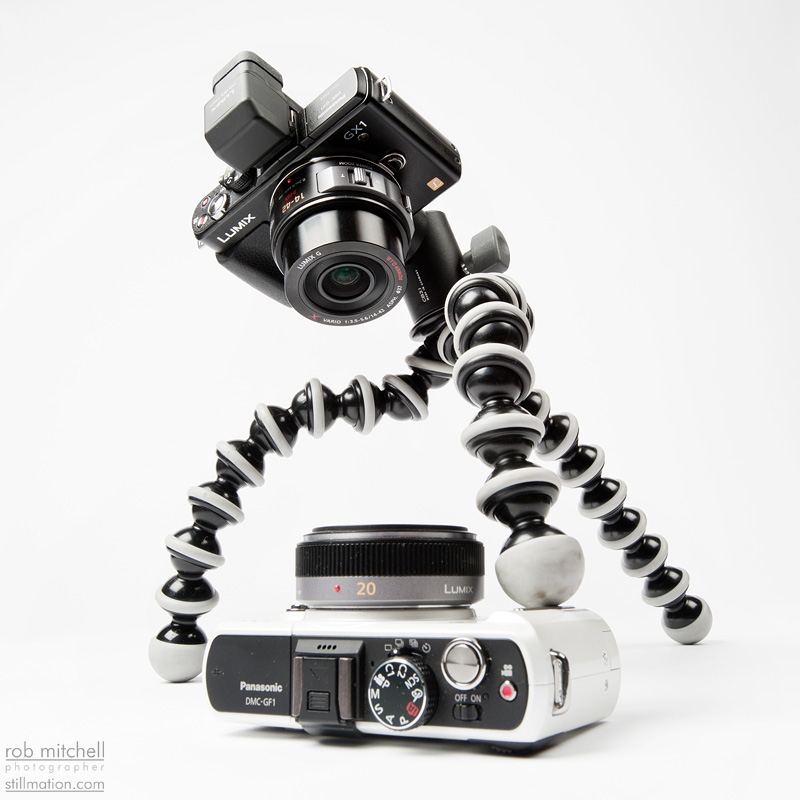 GX1. Bully or brother to the GF1?
Back in October 2009 Panasonic joined the Micro Four Thirds race by releasing their Lumix GF1 interchangable lens camera. It didn't take long before the GF1 or it's nearest competitor, the Olympus PEN E-P1 caught the attention of serious photographers in the amateur and professional world. Both offered a very compact mirrorless interchangeable lens system that shared the same mounting system. Interchangeability suddenly took on a new meaning. I was one of the people who jumped on the Micro Four Thirds bandwagon and chose the GF1 as my new toy. Here's my take on it all and to be more precise, my take on the newly launched and much anticipated Lumix GX1
Why do I need yet another camera?
Working as a commercial photographer it's all too easy to become too technical and sterile in ideas. A bag full of high quality DSLR's and wide aperture lenses offer the technical security to producing high quality images for my clients. Couple that with the client's technical brief and the scope for creativity is narrowed. It's all too easy to switch into robot mode of producing the required images. Client happy, Rob Happy.
Up until recently, I've been getting to the situation that if I didn't have a DLSR and bag of lenses with me I felt naked, even for non commercial work. After all, I could miss 'that' shot!
I needed an alternative, to get out of that mind-set and get back to my passion of making photographs with the equipment in hand, not what I might have in the bag. I bought a Panasonic GF1 and a 20mm 1.7 lens to force myself to start getting back to the basics of why I love photography.  Innocent and fun experimentation without getting wrapped up in technical details. I never intended to use GF1 for work, it was my every day fun camera. I love the GF1 and have no complaints with it.
1st  impression
However, as soon as I got the GX1 in my hands it was obvious that Panasonic were pointing at me, it feels more grown up than the GF1, they've added a grip of sorts to the body that really does make it feel more solid in the hand. The body is slightly thinner but that really doesn't bother me, it's still pocketable. (Albeit in a large pocket)
The menus seem familiar, programmable function buttons offer lots of custom setup options and everything feels robust. I'm not keen on the new on/off button though, the slider button of the GF1 has been replaced with a rotating control on the main function dial. It will just take some time to get used to.
Real world usage
The first test I wanted for the GX1 was in a working studio situation. Shooting portraits in studio with studio lights isn't a particularly demanding situation. ISO values are generally kept very low and as long as the camera can trigger the flashes, technical capacities of the camera aren't stressed at all. It's more about handling and easy of use and final image quality. I've used the GF1 in the studio but it's always felt alien. Yes, it works with my hotshoe flash trigger and the results always look good on the rear LCD but the colour output always falls short of my expectations.
Using the GX1 in studio was a very surprising event, faster and more accurate focus, easy handling and best of all, output that put the results of my expensive DLSR gear to shame. The GX1 has pushed the compact mirrorless camera into a new league of being a viable camera for studio. I would never have thought that! I needed to push this little camera a bit more, so I threw into the realms of the low noise DSLR, shooting under modeling lights. 2 studio lights with just their tungsten bulbs on, no flash. 1600ISO and a wide open lens. Hello? Yes, there is some noise but sharp, clean, colourful images with a grain that compliments rather than detracts. My old D2X couldn't produce images like that at 400ISO..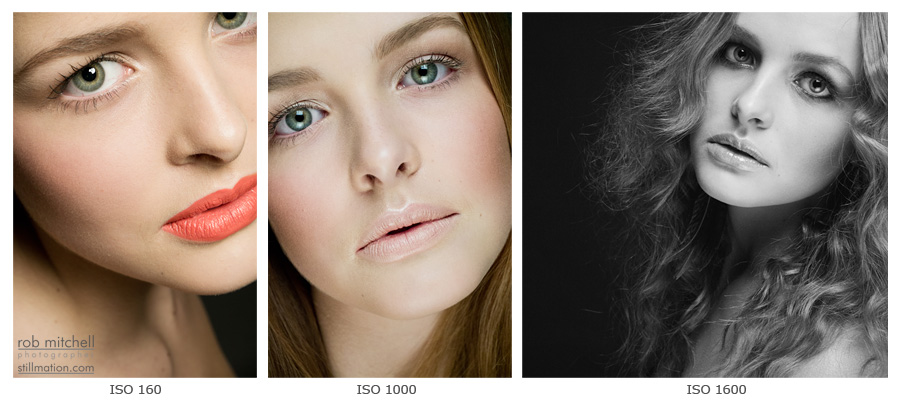 Model: Charlotte De Bleecker
MU&H :Inge Van den Broeck
Back to candid
Despite the results in studio, shooting candid is what the GX1 is about to me. Pointing and shooting and enjoying it. I was dreading the thought of a touchscreen on a camera. I was pleasantly surprised that using the touch screen on the GX1 isn't that painful. The most useful function of the touch screen is to select the focus area, you just have to touch the screen where you want to focus and it focuses there. It's very intuitive and a lot faster than juggling buttons to move the focus area. Normally, I'd just leave the focus point centralized, focus and recompose the shot before shooting. All well and good, but I really did notice an increase in shooting speed when shooting from the hip by using the touchscreen method. I had secretly hoped it was still active when the EVF was fitted to the camera, alas no, you have to manually move the AF point or recompose.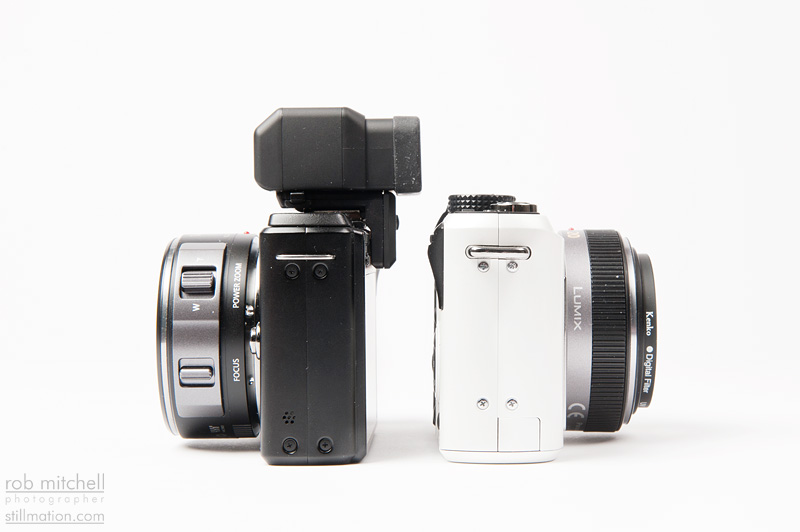 Back to back but facing each other.
The EVF
On the subject of the EVF, it's staying on the camera! I like it very much. Slightly laggy if you pan too fast but otherwise it's bright it's sharp, it offers a full in viewer display of all settings and menu options. Yes, It adds some bulk to the camera, it'll probably drain the battery faster and it's pretty expensive but there are 2 good reasons I like it.
Anyone who is long sighted will know that looking at the rear LCD screen of a compact camera isn't the easiest thing to do without glasses. The EVF makes it a lot easier for me to see where the camera is focused and use the camera in bright sunlight.
The second reason might sound a little odd, but is the harsh reality. People take you more seriously if you are using a camera with a viewfinder rather than holding it out in front of you. Consider this: A professional turns up to a wedding and is using a small camera that he has to hold out in front of him, Uncle Bob style. People frown, they expect a pro' to use a little more than a point and shoot.
Why am I even worried? After all, this is a fun camera for me to always have with me for candid shots. Well, honestly, the GX1 is grown up enough for me to seriously consider having it in my camera bag for some events. The very nature of its cute and unobtrusive nature will be an asset at wedding receptions. Wielding a large DSLR around when it's totally unnecessary is confronting to guests at a wedding. The ability to blend in and work less conspicuously does yield much better results that fit into my style of photography. Again, the main improvements over the GF1, improved focus, lower image noise, better colours leave me in no doubt that I can trust the GX1 and use it's images as worthy final images for some of my clients.
Kit lens
In contrast to the GX1, the new Lumix G X Vario PZ 14-42mm kit lens really doesn't do anything for me. Don't get me wrong, there is absolutely nothing wrong with the image quality from it. In fact, even wide open at 42mm it is very sharp. Wide open though is 'just' F5.6. That on the 2x crop effect of a Micro Four Thirds sensor really isn't giving me a lot of creative scope for playing with depth of field. Besides, I use zooms all day for work, zooms make me lazy. This is an electronic zoom, good for the video market but not so good for photographers who want to move quickly from one end of the range to the other. Full marks to Panasonic for a great lens, but I'm going to stick to my 'fast' primes and use the manual zoom technique of walking closer to, or further way from my subject. If I get bored with the Micro Four Thirds lenses that are available, I can always use my Nikon lenses with a mount adaptor. Manual focus but a lot of fun.
Downsides?
Nothing is perfect and there a few little things that made me wonder. I've already mentioned the on/off switch being a little niggle and something to get used to. If you're a tethered shooter and want to use an AC adaptor on the GX1 you better not mount it on a large tripod plate! Unlike the GF1's cable hole in the side of the body, the GX1 has it's hole in the battery door. On the bottom of the camera, not ideal. The thumbwheel that controls aperture/shutter and exposure compensation has been made even smaller. Why? With cold hands I already had a bit of a job to turn it and not to press it on the GF1, now I have to be even more careful.

Looking over the shoulder.
Conclusion.
So really, what started out as a venture into finding a good camera for fun has made a full circle and become a fun camera that's good enough for some of my paid work. So why did I said at the start of this post that the GF1 was a toy?  Well. It was supposed to be my pocket camera, the one I always had with me, the one I'd just play with. It soon showed me that this camera format was more than a toy and now after using the GX1, the format has matured and can actually be used as a tool of the trade.
Panasonic have loaded the GX1 with just the right amount of goodies. No in camera panorama maker, no pop-art image processing, no gimmicks. It's back to basics; it's a serious enthusiast's camera that won't disappoint.
Will I upgrade from the GF1? It's a close run thing, but yes. I will. The GX1 hasn't bullied it's way in on the GF1, it's a big brother, the result of evolution. Not overkill, a subtle yet substantial tweak on what was already a good tool. It's all the fun of the GF1 with a just a little bit more. I will still use it on my favourite setting of contrasty, black and white square images but with the knowledge that I can use colour, I can push the ISO further, I can experiment more!
It's a win, win situation!

JPG output is stunning. Rich colours and depth that I missed on the GF1

The GX1 used in my favourite custom setting. Square Black & White. I just love it
Further reading and a full review of the GX1 including 2 more personal reviews from colleagues Tom Museeuw and Bert Stephani can be found in issue 17 of  SHOOT magazine, available on 14th February (the printed article will be in Dutch)