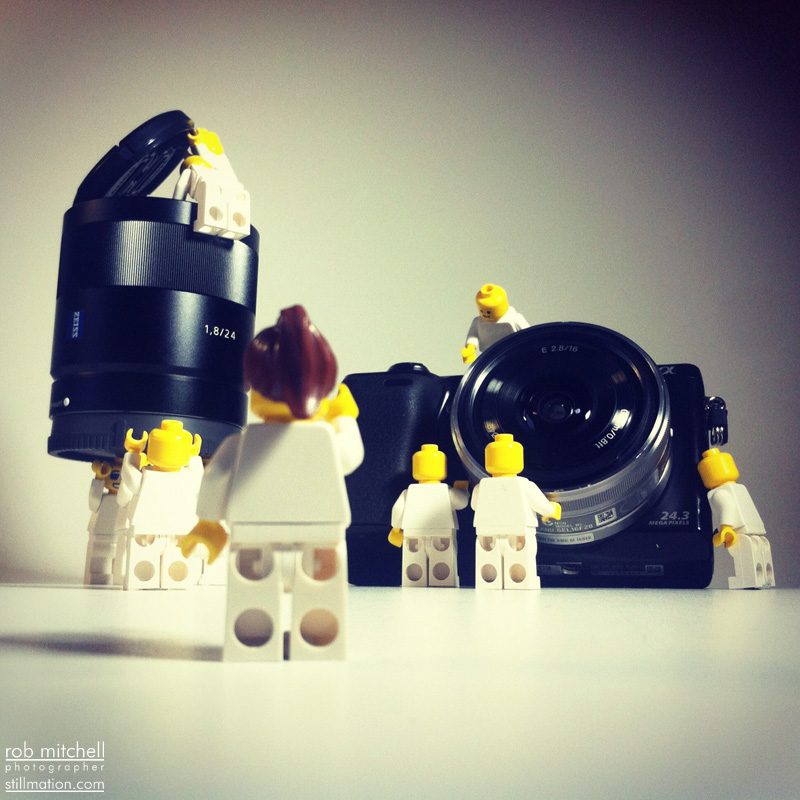 To add to my hands-on experience of mirrorless system cameras I've recently had a short time with the Sony NEX-7. Sony Belgium kindly sent over a camera with a couple of lenses to see what I thought of it. The lenses were the Sony Carl Zeiss Sonnar T* E 24mm F1.8 ZA and the Sony E 16mm f/2.8.
My initial feel for the camera was that it was a good compact size, yet not too compact. The battery compartment gave a good grip volume on the side of the camera that made it feel very comfortable in my hand. Positive feel to all the dials on the body and a general sturdy feel to construction were pleasing to see and feel.
A couple of big plus points of any camera in this category are covered by the NEX-7. A built in viewfinder and a tilting rear LCD. I found the EVF a little to harsh on the black tones and very contrasty. On the whole it was very responsive to camera movement with no serious lag in refresh. The tilting screen was solidly made and offered a good representation of the images during playback and was very usable in 'Uncle Bob' mode. Oddly though, I missed the touch screen functionality that I've seen on the Panasonic GX1 and Olympus OM-D. A feature I once loathed has grown on me for quick and easy adjustments to settings and AF points.
The menus.
The NEX-7 was really frustrating at this level. I found the menus rather messy, disorganised and very annoying. I didn't discover that the NEX-7 could shoot in black and white until after I'd returned the camera. Yes, I could have looked harder in the menus but I shouldn't have to for such a basic feature. The autostitch panorama feature was easier to find. For me a much less interesting feature but of course this camera is aimed at a market that would probably find that feature more appealing.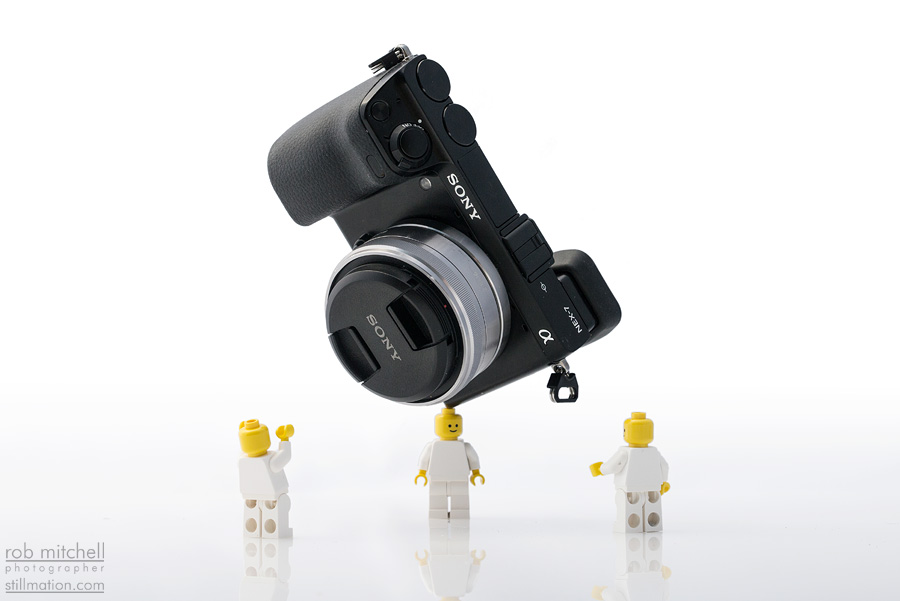 Batttery.
Battery life isn't too bad. What I've come to expect from this category of camera. A day out of trigger happy shooting would certainly require a spare battery in the bag. With all that said, leave the camera switched on and carry it around on a strap and the battery will and does drain a lot quicker. The eye sensor on the EVF detects anything that comes close and activates the camera, an unwelcome power use. I also found the EVF a lot more comfortable to use without the rubber eyepiece fitted. Strange as rubber eyepieces are generally fitted to aid use, not hinder it.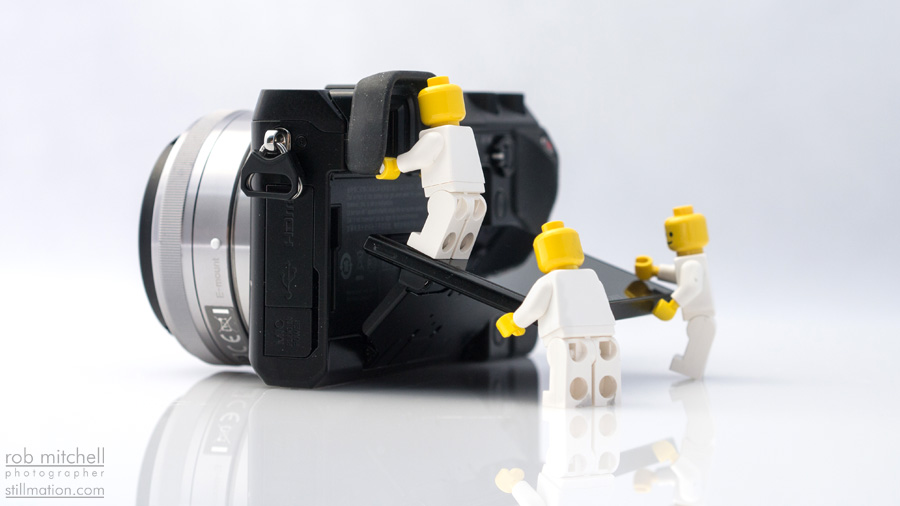 Hotshoe.
Again, Sony stick to their proprietary standard hotshoe, knowing full well that just about any serious photographer will buy an adaptor to allow connectivity to the world of ISO 518:2006 hotshoe accessories. Is it through stubbornness or just to be different? I don't know. They're not alone though, Nikon of course recently chose to use a proprietary hotshoe on their 1 series.

Lenses.
I'm most certainly a prime lens lover on compact mirrorless systems so was pleased the 16mm and 24mm were supplied with the camera. The lenses were clearly very different, and not just in focal length. The 16mm, nothing substantially wrong with this lens as far as I could tell and in fact an ideal combination to fit my personal desire to keep a compact camera system compact. It was very slim and fitted right in with the description of 'pancake lens' A good all round day trip prime lens that works out at about 24mm in real money. Nothing too wow about image quality from the lens though, very adequate but nothing to make me fall in love.
The 24mm on the other hand.. Carrying a Zeiss badge or not, it just felt a lot better on the NEX-7. Build quality was up on the 16mm and although physically way larger than I'd like, I liked using it. Wide open I had a good feel, closed up it gave crispy images, directly into the sun it had no nasty flare issues. After using both lenses, I'd forgo the w i d e 16mm for the 24mm, any day.

The rest.
Tech specs aren't what I'm about so the rest of the usual things in a camera slide past me unless they stand out in either a good or bad way. I expect all cameras to focus quickly nowadays and the NEX-7 does. In fact you forget the camera is focusing as it's so quick. Accurate and good in all lighting conditions. ISO range is good, like all cameras in this category the NEX-7 is at a point where strictly speaking, it doesn't matter what ISO you use up to the mid-high range, the image is going to be perfectly acceptable. Push it or any other camera to the upper limit and it'll start to get messy. So no surprises there at all.
Images out of the camera are reliable, colours are good and no nasty surprises. Definitely low to mid range DSLR image quality levels here.
All in all I had a pleasing experience with NEX-7. Nothing would scare me off from buying one, but there is not light flashing to tell me I should either. My main issues are, the menu system is horrible and the flash mount would need me to buy an adaptor to unleash extra creative ability.
As I write this, I've just caught some Twitter feed of new NEX model news being leaked. With Photokina on the near horizon and incredibly fast moving camera development, I do wonder what will Sony will do NEXt.
Below a mixed bag of images shot with the NEX-7.