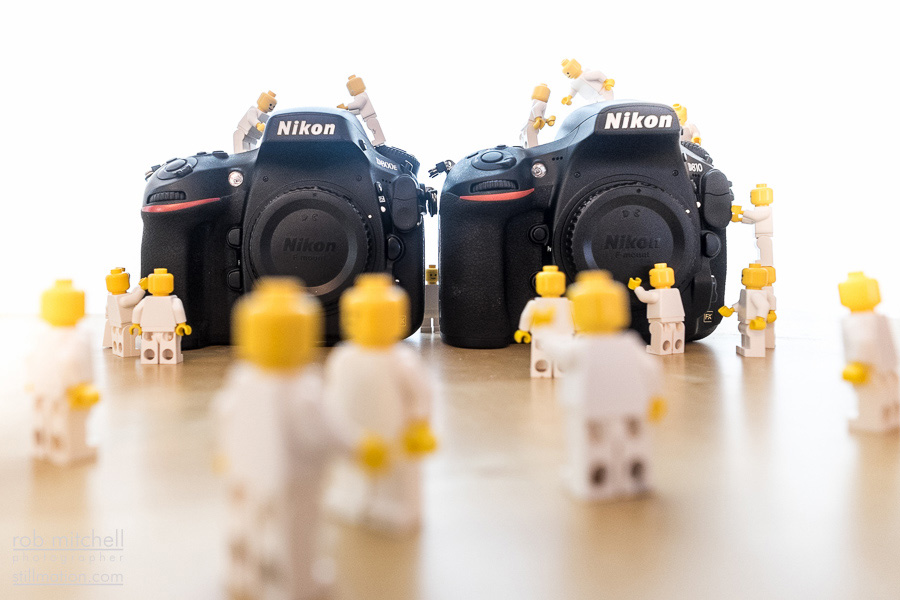 The D800 and D800E were launched back in the begin of 2012, I was lucky enough to go with Nikon Europe to New York to have a first glimpse and test of the D800 and followed up the trip with  a magazine article about the differences between the D800 and D800E
At the launch of the D800 it was the undisputed pixel king of the DSLR market. Nikon had firmly upped the ante by releasing a small bodied camera with such a punch. However, the announcement of the 36mp sensor was towards the end of the long megapixel war. People were no longer impressed by the number of dots alone, they wanted more. Well, actually less. The Nikon sea was turbulent as trusty D700 owners felt cheated and  jumped ship 'we don't need 36mp' was the cry as they splashed into the sea of the camera marketplace.
Here are just a few points that have jumped out at me with a first fiddle of the new camera.
I'll be doing some D800E VS D810 work soon, so stay tuned.
Too little too late?
Over 2 years later, Nikon have dropped another pixel bomb into the sea. The D810 is here. The same pixel count as the D800, the same battery, slightly tweaked layout and some small but big changes. Small but big? The biggest gripe from wedding photographers and ship-jumpers was that the D800 had far too many pixels, would take up far too much storage, etc. Well, Now we have a small RAW option. 9mp instead of the 36mp. Personally I did expect the anticipated small RAW to be something like 16 or 18mp. Is 9 too small now? I have talked to a couple of wedding photographers who seemed fine with that. During the great megapixel war we were brainwashed into thinking BIG. In reality a 9mp is more than enough for some pretty big printing. When you consider that around 90% of all photos made remain in a digital format, i.e. online use. even a measly 9mp is overkill.
I've said it before though, there's going to be that ONE time that I decide to shoot in small RAW and a client says, 'oh, can we make a crop of that shot for a billboard'
It's already happened to me with an image from a D4s, someone asked for the high res version of the image! I think a lot of it is down to us as professionals to guide clients away from the legacy of the megapixel war. Bigger isn't always better. Or needed.
Body control
One of the first tweaks I noticed on the D810 is that the video record button has moved ever so slightly towards the shutter button. Now, I'm not going to say that had anything to do with me standing in NY cursing that my index finger had to stretch a bit more than usual to reach it. It is more comfy to use now though, thanks Nikon! 😉
The light metering dial has been moved to where Bracketing was and now the BKT has its own button. We have an extra 'i' button to access options in Live View or shooting bank details.
Identity crisis?
I'm one of those who's not particularly bothered which camera is used, as long as the job is done and the client is happy. Now it's a little bit more obvious that I have a NIKON in my hands. Nikon, why have you made the embossed logo on the prism housing even bigger? odd.
Keep the noise down
Briefly, a whole new shutter box gubbins has been developed for the D810. Surprisingly quieter than the D800. A bit like a muffled 'clunk' as if it has had a handkerchief stuffed in its mouth. Dedicated mirror less users have loved the fact that mirror less systems are quiet, this still isn't as quiet as a Fujifilm X-T1 but switch to the new Qc (Quiet continuous) mode and it bites even more gently onto that hanky.
Stay focussed
I've used the D4s and the new group AF system  for motorcycle racing at the TT. It was impressive. The D800E I was using next to it didn't have that group AF and was equally impressive. I just managed to squeeze off 3 shots as the bike went past instead of 257 with the blisteringly fast D4s. D810 brings us the same group AF as the D4s as well as a slightly higher frame rate in 36mp mode. So I'd get 4 or 5 shots of the bike. In a higher res. In focus as before. I still need to experience  more high-speed AF tracking work to really see the benefit of the group AF.
Double yer money
1 x D4s = 2 x D810.
Day in, day out sports action and need to bang in the odd nail or knock down a wall in the kitchen.
Buy a D4s.
Otherwise, 2 x D810 might be a better deal for you.
How low can you go?
64ISO.
Lower with the software enhanced settings.
This 64ISO will be welcome to many, I'm looking forward to seeing where that takes us.
Native, the camera goes to 12800 ISO too, no claims to world records there but in reality it'll probably mean very usable up to 6400. I rarely took the D800E above 4000 for commercial use. My D7100 was marginally more useable from 3200ISO upwards.
Well done Nikon, a nice spread of sensitivity there.
____
I'm looking forward to giving this machine a good ride. My D800E is far from dead. It has battled hard and in some pretty tough situations. It has been used in places where the D4 or D4s should have been used and has stood up to everything I have thrown at it. So an improvement on that?
Bring it on.
Working test results and opinions very soon.