This post has nothing to do with photography.  Well, in a way, I suppose it does.
I'm not a 'Bucket List' person at all, but if I was, today could be classed as one of those big cross-off-the-list things.
Today I joined a pretty unique club. More unique than driving a Bugatti Veyron, a McLaren F1 or pretty much whatever exotic vehicle you can think of. Heck, a group that has less members than are in the 'I walked on the moon' club.
Today. I rode a Sarolea SP7.
I've known Torsten since the SP7 was a block of wood with screwed on suspension, clip-ons, a pile of design sketches and a lifetime of dreams. Together with his brother Bjorn and a handful of dedicated and passionately smart people, the shed mockup was turned into reality. The Sarolea SP7. Full electric super bike. No compromises. An out and out race bike built with one goal in mind. To race in the Isle of Man TT.  Today I rode an SP7.
My role in the team is as photographer, tea boy, battery pack assembler, van loader, unloader, etc, etc. Basically, we all have our tasks in the team, but all muck in to help where we can.
Today was a little different. I popped round to Sarolea HQ on my bike. (My 14 year old big thumper V twin. A Honda VTR1000)
The usual coffee and banter was brought to a sudden end when Torsten asked: 'You want to take it for a spin?'
<gulp>
Since I starting riding at 16, you never ever took your mate's bike out for a spin. Ridin' rules stuff. Just like you'd never give your mate's girlfriend a wink at the pub. Just no-go zones. Even thinking that would put you in dangerous territory.
But there I was. Being asked if I want to take this unique and priceless prototype racing machine out for a spin. I almost had to do a double take to make sure his Mrs wasn't about in case I winked accidentally.
He asked again. My brain stopped playing the Twighlight Zone music I graciously and cautiously accepted the invitation.
$h1t. Today I rode an SP7.
Very, very gingerly for about 1km up the road, through the gently widing roads of the Flemish Ardennes, I got a feel for the electric super bike. This wasn't like riding another super bike at all. The SP7 has no gears. Twist and go. and go, and go! It wound open like my torquey V-twin bike in 3rd gear but without the engine sound or vibration. Closed the throttle and re-generative braking felt at lot like the VTR engine braking. In fact, during that potter up the lane, I didn't even touch the brakes. I did try pull in the clutch as I stopped at a cross road though. Duh. That's the back brake on the left handlebar.
I rode back as gently as I rode out and it felt like I was 17 again and had just ridden my old NS125 for the first time.
T suggested we went for a bigger tour. He took my VTR and I took the SP7. This time we had a mix of lanes, fast dual carriageway, more lanes, sweeping bends and even cobbled roads.
Wow. Just Wow.
It's hard to describe the feeling of riding the SP7. Especially to people who have never ridden or driven an electric vehicle. I'll have a stab at it though. Imagine.. Imagine that first day you rode a bicycle. That moment you balanced yourself and pedalled away. That excitement of feeling the air rush past you, the exhilaration of being free. The feeling of wanting to ride and ride until you're exhausted.  That's pretty close to my SP7 ride. I think I sprained a grin muscle too. This was way better than that first NS125 ride, this was grown up, this was beyond anything I could have imagined an electric motorcycle could do.
Any biker loves the thrill of rolling along at speed, drop a cog or 2 and then gas it hard. Well, forget dropping the cogs on the SP7. Just crack the 'gas' and go. WHOOOSH as the air accelerated around the helmet, no vibrations, no chain jerk. Just go. Thankfully the power controller is in between the batteries and the back wheel otherwise the back wheel would surely overtake the front one. Once I got to grips with the weight distribution and rather high centre of gravity, the bike felt very comfortable to ride, despite of the rather radical racing riding position it felt civilised, real and normal. Throttle response, motor braking and handling of this heavy bike. Yep, all felt like nice big V twin without all the noisy shaky bits. In fact, it felt a lot better to ride, a lot more fun. A lot more comfortable.
As part of the Sarolea team, I'm obviously way into loving electric power. I still drive a diesel car and own a petrol bike. I love the V-twin sound and still adore the smell of 2-stroke. However, electric is here, it is taking riding experience forward and beyond what we know and are familiar with. It has many advantages over internal combustion and still has a few negatives that are gradually being ironed out. Cost of electric power is still high and charging can be a stumbling block right now. Bike autonomy? Nope. The SP7 goes further on a 'tank' of juice than my VTR!
What Torsten and the guys have done is prove that you can have it all in an electric bike.
I suppose any talk about electric vehicles isn't complete without a comparison to Tesla. Well, if you want to put Sarolea and Tesla into the same sentence. The SP7 is what Tesla did with the Roadster. A small group working all day and night, hand building prototypes in a shed as proof of concept. Working past the critics and not relenting with the push. If Tesla has now progressed to the Model S P100D, I can't wait to see what team Sarolea can put on the road in the future and I'm honoured to be part of that!
Today, I rode an SP7.
Torsten, Thanks mate. x
Tineke, <wink>
Straining a Grin muscle after a ride on the Sarolea SP7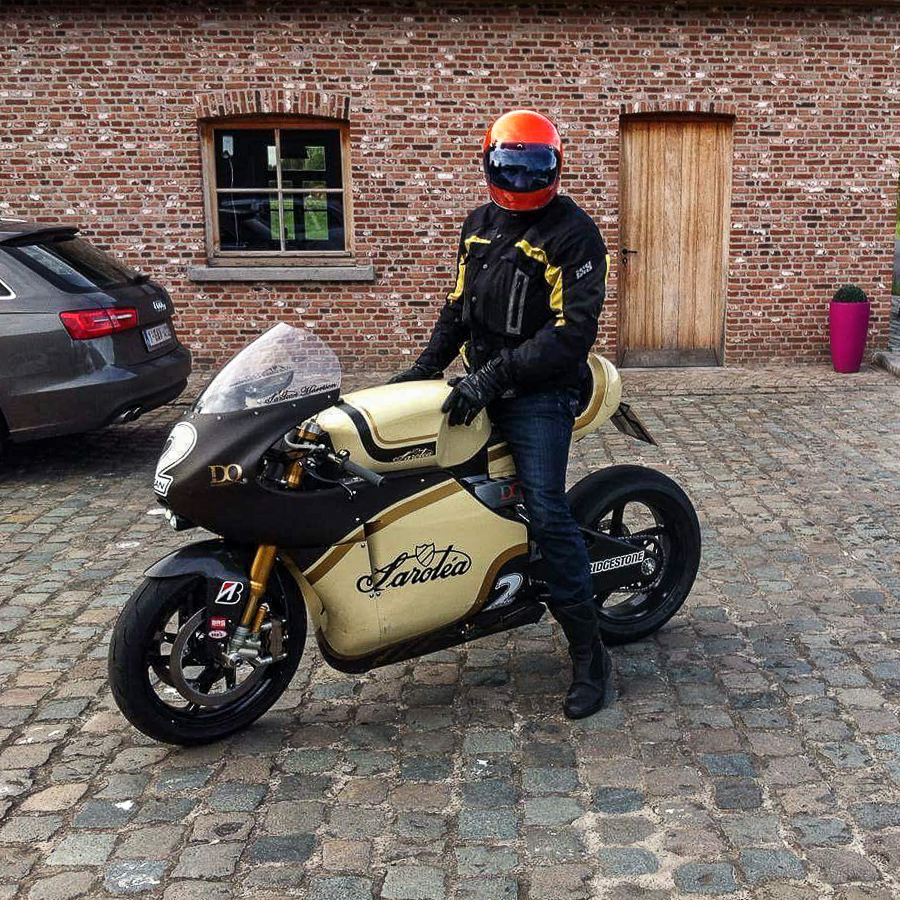 Filling up the dinosaur with dinosaur juice.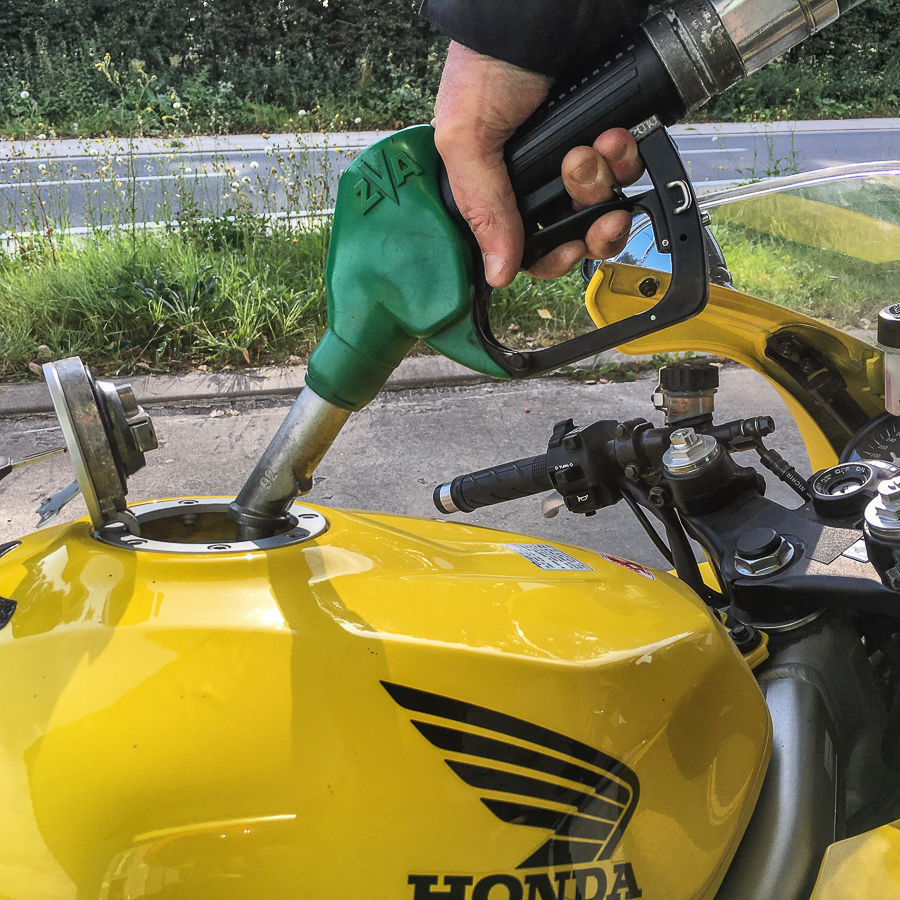 V-Twin and Electric.